About the Author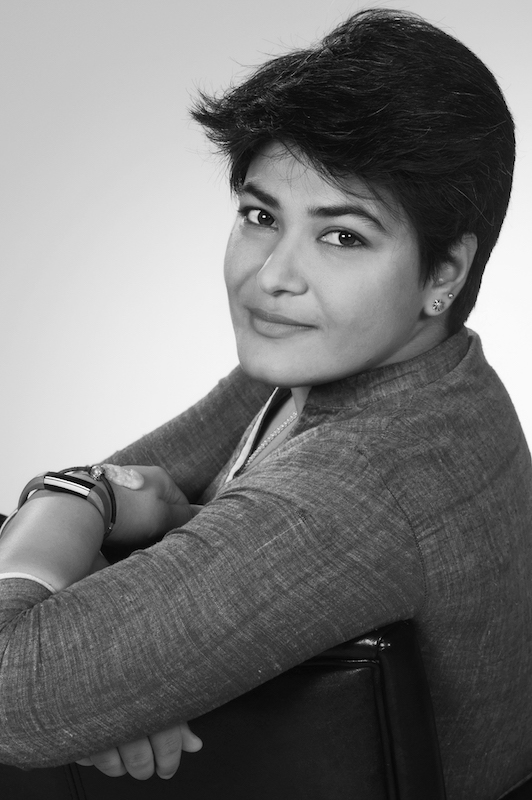 Debolina Bandyopadhyay, Bengali: দেবোলিনা বন্দ্যোপাধ্যায়, Phonetic transcription: debo:lina vando:pa:daɪ̯, (31 March 1985), sobriquet: Deb/Dubois; penname: De.B. Dubois.
Debolina Bandyopadhyay aka De.B.Dubois is a writer, poet, design theoretician, dancer, actor and visual artist. With her roots firmly in Bengal, Deb is now a Swiss national where she practices Visual Arts, teaches students of design to bridge theory and practice, and continues working as an inter-disciplinary design and communications expert. She wrote her first poem at the age of seven and her early pieces were published when she was 16 in a few hyper-local October magazines in Calcutta. But after they were criticised for mature content, strong language and abstract rhythm, she did not publish a poetry collection till 2003 when she wrote her first short stories and dramas under Joe Winter's tutelage at The Cambridge School, and published poems in her high school magazine.
De.B. was exposed to literature, politics and intellectual discussions right from her childhood days, thanks to her diverse family of socio-political and literary background. She was much influenced by her uncle Rajat Bandyopadhyay who was host to many thinkers and artistes at his Jadavpur home. The seeds of feminism saw early sprouts when the young girl took role model in India's first woman taxi driver from Calcutta. Despite her ADHD and dyslexia, Deb has been publishing books, working in integrative design and also taking part in many visual art festivals, the most famous being the Body and Freedom Festival, on a solo performance called "Mirror", with the writing "Why do I feel comfortable being naked here (front) but fear, death, rape and physical verbal assault in India (back)" on her body.
You can reach her here on:
"I am a Swiss-Romande, and Bengali from India. Although having roots of Kulin Brahmin, I am related to many Pirali Brahmins from Calcutta with ancestral gentry roots in Burdwan and Jessore. First started writing poetry as a seven-year-old, and at the age of sixteen/seventeen, released my first poems in a few hyper-local October magazines in Calcutta under the pseudonym Papel ("paper") – criticised for transgressions trough maturity, strong language and abstract rhythm, I stopped publishing further poems or proses, until in 2003 and 2004 when I wrote my first short stories and dramas under Joe Winter's tutelage at The Cambridge School; and performed in a British Council drama festival where I choreographed a part written in collaboration with my classmate Jivraj Satya Singh. As a feminist, humanist, Universalist, internationalist, and ardent anti-nationalist, I denounce the BJP/RSS in India and SVP in Switzerland, and advocate independence from age-old bigoted ideals.
Youngest and the only surviving child of my parents, I was nicknamed "Papal". Which was a running joke amidst my cousins – as I was a very honest child. I was told that due to my mother's pregnancy complications, my maternal grandma had lit many candles in the church (thus Papal), given alms at mosques, had innumerable homa and jogyas at temples (thus Debolina), before I was born on 31 March 1985 at the Shishumongol Hospital in Calcutta to Pradip Kumar Bandyopadhyay and Rama Chakraborty-Bandyopadhyay.
My childhood was interesting. Mostly servants and my maternal grandparents raised me, as my mother was busy with her wood workshop that she established and collaborated with a furniture maker in New Alipore – Behala region in Calcutta (as well as taking on responsibilities as any full-time homemaker would), and my father was hardly around due to his very busy job as a police officer.
My family, the Bandyopadhyay family, has always been at the forefront of Bengali politics, government, culture and education. My great-great-grandfather was a Daroga in Burdwan during the British Raj; my great-grandfather was a Medical Doctor to the Searsole Rajbari Maharaja of Ranigunj, my grandfather retired as Deputy Director of Food and Supplies Department of West Bengal, and my father retired as Assistant Commissioner of Kolkata Police after years of being in special forces division Rapid Action Force (RAF). We are traditionally a Zamindar family from Burdwan region.

As a child, I saw my uncle Rajat Bandyopadhyay host publication of literary magazines, theatre and recitals of Bengali classical regularly at his home in Jadavpur. He is a poet and educator, and a strong advocate of equality. Every Sunday, I'd visit him as my aunty Ratna Bandyopadhyay would cook me delicious mutton-curry and luchi, and my uncle would allow me to sit quietly and attend his Abriti Class (poetry class). I have seen many famous public speakers, politicians, filmmakers and poets being groomed by my uncle. – Some people I remember meeting as a child are Pradip Ghosh, Partha Ghosh, Gouri Ghosh, Bratati Bandyopadhyay, Pankaj Saha, Mrinal Sen and Buddhadeb Bhattacharjee. This apart, while on my trips to Bandyopadhyay family ancestral home in Rajpur Nandi-Gram of Namo para, I'd often meet my aunty Kanika Bandyopadhyay. So my childhood has been an array of influential writers, politicians, artists, journalists who remain – till this date, quite well-known and eloquent in Bengal.
Also, there has been a great influence from my maternal grandparents, as my maternal grandfather Rashbihari Chakraborty was slave to my education, and often took me to see professional Dhrupad musicians, speeches by philanthropists and philosophers related to Belur Math, and once as a surprise – I was taken to Mahaswetha Devi's home for tea. Back then I had no idea about her influential writing, but I do remember getting a Cadbury chocolate bar when I got distracted and restless, and simply wanted to leave. My grandpa always said – "Don't follow blindly. Analyse and use your brain." This is one piece of advice that I hold dear to my upbringing.
Due to my dad's job I also had the pleasure of meeting people from every walk of life. To the point that my female role model used to drive me around in her taxi; yes, I was being driven around and shown Calcutta by none other than Jasbir Kaur, first female taxi driver of Calcutta. Miss Kaur often picked me up from Modern High School for Girls, where I studied, and brought me home after sweets at Mithai. I'd look up to her and say – "I want to be strong like you". Given that my role models were diverse, I still think she influenced me the most. I have always admired her strength and courage – and I draw much inspiration from the way she held herself in public against all odds towards a female taxi driver during late 80s and through the 90s.
This apart, due to my dyslexia and ADHD, I'd largely avoid classroom schooling and preferred to roam the corridors and gardens of my alma matter Modern High School for Girls. My favourite spot was behind the school planetarium – where I'd spend hours enacting characters from my own fantasy stories of aliens, ghosts, princesses and dragons. Despite what people might think – I am an extreme introvert, and prefer being alone, and daydreaming to talking or partying. Often I failed classes, and got severely bullied in school, as I was literally the odd one out.
As a child, I was inexhaustible, so was made to take many extra curricular activities. I have been trained as a Kathak Dancer from the age of five, and then moved on to contemporary Indian dance at age eleven, under Tanusree Shankar and Ananda Shankar. Where I developed love for Indian fusion music – for which the Shankar family are well known; and later on, developed from mutual respect for the arts, grew a friendship with Sreenanda Shankar – who was also my middle school senior. During my teens I also took part in inter-school regatta and school sports – where my upper body strength and agility earned me first place in shot put, while my short attention span made me soon forget about putting more energy into sports and hover over to the next thing that interested me. Also, I started art and painting training at the age of five, from IIT kharagpur professor Mr. Nandi, who also taught at Bengal College of Arts as a visiting professor. I'd lovingly call him Ankar-dadu (drawing-grandpa) and learnt my drawing basics from him, – till he tried to explain a woman's rightful position in society and that was the last he saw of me. I couldn't deny how much I adored art, and often in school I came first in art while failing almost all other subjects! So… while finishing my high school, I decided to take it up as my profession.
Since then, I have worked and studied art and design in Dubai, Abu Dhabi, Mumbai, Sydney, Paris and Basel. Over the years I managed to put more effort in reading and educating myself in art history, philosophical and social theories. For my masters thesis, I was very lucky to have Dr. Prof. Franz Schultheis (a sociologist from Germany) as my thesis director, and during my bachelors I was initiated into Paris art scene by Swiss and French artist Jérôme Liniger. As an exponent of modern Bengal, I have advanced quite a vast canon that comprises of paintings, sketches and doodles, many poems, texts and thoretical writings and some thousands of photographs. And recently as a part of my performance art, I was featured by "Body and Freedom Festival" in Switzerland's Ritualtheater (organised by artist Thomas Zollinger) for my naked performance called "Mirror", with the writing "Why do I feel comfortable being naked here (front) but fear, death, rape and physical verbal assault in India (back)" on my body."